CompuCell is a leading mobile phone wholesaler supplying the best selection of mobile phone brands to the retailers and wholesalers spread across various geographic regions in the world. CompuCell makes sure to update its inventory with the top mobile brands frequently and ensures delivering the genuine and the best mobile phone brands and models to its customer worldwide. You can always depend on CompuCell for the latest model mobiles undoubtedly.
Samsung Mobile Phones
Samsung Mobile Phone Brand has bagged the top position in the Mobile Phone Vendor Market Share World wide as per the reports released by the statcounter. Samsung is a South Koren multinational conglomerate, having its head quarters in Seoul. The much loved Samsung Galaxy Note series is a great hit among people who appreciated the real smart phone with larger display screen phone along with the pen, having multitasking capabilities. The latest addition in the Samsung Galaxy Note Series is Samsung Galaxy Note 10+. Samsung Galaxy S series is also an equally starring high-end Android powered mobile phone from the house of Samsung Electronics. The latest addition in the Samsung Galaxy S series is Samsung Galaxy S10+. The latest model of Samsung mobile phone released in November 2019 is Samsung W20 5G. Some of the other popular models of Samsung phones released in 2019 are Samsung Galaxy A70, Samsung Galaxy A20, Samsung Galaxy M30, Samsung Galaxy A90 5G etc. CompuCell is proud to offer wholesale Samsung mobile phone brands to several retailers and direct consumers belonging to various countries in the world. We have been continuing to maintain a strong relationship and networking with wholesale Samsung phone distributors for more than 18 years and hence we could offer the best price for our trading partners.
Apple iPhones
Apple is the world's third largest mobile phone manufacturer after Samsung and Huawei, and ranked as the world's most valuable brand. Apple released the first generation iPhone in 2007 and now in 2019 it has reached iPhone 11 Series. The latest models of mobile phones from the Apple iPhone family that released in 2019 are iPhone 11, iPhone 11 Pro & iPhone 11 Pro Max. CompuCell is a leading iPhone wholesaler based in Dubai doing the export and supply of different models of Apple iPhones based on the requirements from retailers and wholesalers worldwide. No order is complete without Apple iPhones, we do provide our customers the genuine and original Apple iPhones at the best price and our in-house logistics offers a safe and secure transportation of the wholesale cell phones order with complete peace of mind. We are also providing the wholesale supply of other Apple products including iPads and various models of Apple Watches. Get in touch with our dedicated sales team and they are always ready to help you with all your queries related to quotes, availability, shipping and documentation.
Huawei Mobile Phones
Huawei Mobile Phones are manufactured by Huawei Technologies Co Ltd, Chinese multinational company based at Shenzhen in China, has been manufacturing mobile phones since 1997. Huawei's latest mobile phone brand is Huawei Y9 launched in November 2019. The models of Huawei mobile phones comes for every budget. Some of the reports say that the top listed Huawei Phone Models are Huawei P30 Pro, Huawei Mate 20 Pro, Huawei P30, Huawei P20 Pro. With several premium smart phones in the market, Huawei Phone brand is continuously challenging other major cell phone brands like Samsung and Apple. Huawei Mate series is also a favorite choice for mobile phone lovers that comes with different design, price and features.CompuCell is a trusted wholesaler of mobile phones based at Dubai in United Arab Emirates and has been successfully dealing with the trading, export and supply of wholesale mobile phones including wholesale Huawei Mobile Phones to various geographic locations worldwide.
OnePlus Mobile Phones
OnePlus Technology is another Chinese smartphone manufacturer based at Shenzhen in China, founded in 2013 is the proud manufacturer of OnePlus Mobile Phones. The company's main objective was to design smartphones that would balance high quality at affordable budget compared to other branded phones in its class. The latest mobile phone model from the OnePlus mobile family is 7T Pro McLaren Edition launched in October 2019. It is quite interesting that OnePlus mobile phone brands have captured the mobile phone market in a very short span of time. Some of the popular models of OnePlus phones are OnePlus 7T Pro, OnePlus 7T, OnePlus 7 Pro etc. CompuCell, the wholesale mobile phones supplier based at Dubai in UAE has been successfully established in the wholesale phone trading industry since 18 years and can successfully deliver the wholesale supply of various models of OnePlus mobile phones to different geographic locations in the world.
Nokia Mobile Phones
Nokia mobile phone brand used to be the biggest mobile phone manufacturer in the world, but later fell down with the emergence of iPhone and Android smartphones. Nokia Corporation is a Finnish Company which later in 2014 was sold to Microsoft. One of the latest model from the Nokia mobile phone family is Nokia 110, which was launched in September 2019. We are proud to supply various models of wholesale Nokia mobile phone brands to several of our customers including retailers, wholesalers and consumers spread across different regions of the world. Some of the models of Nokia phone released in 2019 are Nokia 105, Nokia 110, Nokia 9 PureView, Nokia 210, Nokia 220 4G, Nokia 3.2, Nokia 4.2 etc.
Lenovo Mobile Phones
Lenovo, the world's largest personal computer manufacturer, entered into smartphone world by 2012. By 2014 Lenovo become the largest vendor of smartphones in Mainland China. Even though Lenovo has started targeting one country in the 2013s, now it has strong global presence. Some of the popular models of Lenovo phones are Lenovo Z6 Pro, Lenovo Z5Pro GT, Lenovo Z6, Lenovo Z5 Pro etc. CompuCell has been trading and exporting wholesale Lenovo phones to several retailers and consumers in various regions worldwide.
Xiaomi(MI) Mobile Phones
Xiaomi Corporation, a Chinese electronics company, is the manufacturer of Xiaomi mobile phone brands, launched its first smartphone in 2011.By 2014 Xiaomi gained the market share in China and became the China's largest smartphone company. Xiaomi smartphone series include Mi Series, Mi Note Series, Mi Mix Series, Pocophone, Redmi Series etc. Some of the popular models of Xiaomi mobile phones are Xiaomi Redmi Note 8 Pro, Xiaomi Redmi Note 8, Xiaomi Mi Note 10 Pro, Xiaomi Mi CC9 Pro, Xiaomi Pocophone 6, Xiaomi Redmi Note 7, Xiaomi Redmi Note 7 Pro, Xiaomi Mi 9 etc. CompuCell is receiving lot of orders and enquires for various models of wholesale Xiaomi Phones from retailers and wholesalers spread across different locations in the world and have been happily delivering the genuine and original Xiaomi (MI) phone models to our customers.
Motorola Mobile Phones
Motorola Phones are manufactured by Motorola Mobility LLC, a consumer electronics and telecommunication company based in United States, which is currently partially owned by Lenovo Group Limited. Motorola released its first Android smartphone in 2009. Motorola's latest mobile phone launch is Motorola Razr in 2019. Some of the popular models of Motorola phones are Moto G8 Plus, Moto G8 Play, Moto G7 Power, One Macro, One Zoom etc. CompuCell has been continuously delivering original and genuine Motorola phones in bulk as per order placed by retailers and consumers spread across different regions globally.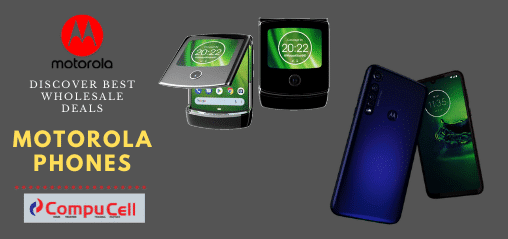 Oppo Mobile Phones
Oppo is one of the top smartphone brand from China, is a subsidiary of BBK Electronics Corporation along with Vivo, Realmeand OnePlus.As per reports from stat counter for the period Jan 2019 – Oct 2019, Oppo mobile phone brand comes in the Top 5 position of the mobile phone vendor market share worldwide. The latest Oppo mobile phone model launched in 2019 is A11. Some of the popular Oppo phone models are Oppo Reno A, Oppo K5, Oppo Reno Ace, Oppo Reno 2, Oppo A11x etc. CompuCell has been exporting and trading wholesale Oppo mobile phones to several retailers and wholesalers as per orders from various parts of the world.
Asus Mobile Phones
Asus mobile phones are manufactured by ASUSTek Computer Inc, named as ASUS, a Taiwan based multinational company. The latest model from ASUS mobile phone family launched in June 2019 is Asus 6Z. Asus manufactures Android phones powered by Intel and Qualcomm SoCs. Some of the popular cell phone models of Asus are Asus ZenFone 6, Asus ROG Phone II, Asus Zenfone Max Pro (M1), ROG Phone etc. CompuCell , Mobile Phone Wholesaler has been a trusted name in the wholesale supply of Asus Mobile Phones to various countries globally.
To become our trusted trading partner, Sign Up today or chat with our customer service team.
GET IN TOUCH
Compucell
Al Zaroonia Building, Shop No:30, Eyal Nasser Deira, Dubai Warehouse D07, Dubai – UAE
Tel:+971-4-273-3778
Fax:+971-4-273-1278